Skip Global navigation and goto content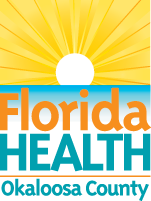 It's a New Day in Public Health.
The Florida Department of Health works to protect, promote & improve the health of all people in Florida through integrated state, county & community efforts.
Skip MegaMenu and goto content
COVID-19 Frequently Asked Questions
How many cases of COVID-19 have been reported in Florida?
Governor Executive Orders
Okaloosa County Coronavirus Summary Reports
Okaloosa County Weekly Key Metrics
Where can I get tested?
What are the signs/symptoms of COVID-19?
Reporting a health care provider not following guidelines
COVID-19 Scams
Return to Work/Community Activities After COVID-19 Infection in Adults
Antibody Testing for COVID-19
Using cleaners and disinfectants safely
Considering traveling? Including in U.S., out of country, or a cruise?
Returning to U.S. from out of country or visiting a highly impacted state?
Traveling to Okaloosa County
How does the virus spread?
What can I do to prevent COVID-19?
Plasma Donations from Recovered COVID-19 Patients
Contact tracing
Do I need to wear a facemask?
If I were exposed to COVID-19, how long would it take for me to become sick?
What are the treatments?
American Red Cross Virtual Family Assistance Center
Fake ADA Face Mask Card
Updated 08/07/2020 10 a.m.
There are 518,075 Florida cases. There have been 8,051 deaths.  
Okaloosa County has had 3,391 reported cases. There have been 38 deaths.
Stay up-to-date with the latest COVID-19 data by visiting the dashboard here.
Public Health Advisory July 20
FACE COVERINGS
Every individual in Florida should wear a face covering over the nose and mouth in any setting where social distancing is not possible, both indoors and outdoors, subject to the exceptions below.
Businesses and organizations are encouraged to require individuals who enter the premises to wear a face covering, subject to the exceptions below. Many counties and municipalities have issued directives requiring individuals to wear face coverings, and such directives should include the following exceptions.
Face coverings should not be worn by:
A child under two years of age;
An individual with one or more medical conditions or disabilities that prevent wearing a face covering;
An individual obtaining a service involving the nose or face for which temporary removal of the face covering is necessary to perform the service;
An individual working in a profession where use of a face covering will not be compatible with the duties of the profession; or
An individual engaged in outdoor work or recreation with appropriate social distancing.
Face coverings may reduce disease transmission by an individual who is infected but has no symptoms and an individual who has symptoms. The face covering may reduce the infectious particles that are released into the air when an individual speaks, coughs, or sneezes. A face covering may also serve to protect individuals by reducing the concentration of particles that are inhaled. All individuals should follow CDC guidelines on what type of face coverings are available and should be utilized.
Face coverings are not a substitute for social distancing, washing your hands, and staying home when you are ill. All of these mitigation measures should be carefully followed together to reduce the spread of COVID-19.
GATHERINGS
All individuals should refrain from participation in social or recreational gatherings of more than 10 people. For all gatherings of fewer than 10 people, individuals should practice social distancing by maintaining a distance of at least six feet from each other and wear a face covering.
VULNERABLE POPUIATIONS
All individuals over the age of 65 and all individuals of any age with high-risk health conditions should limit personal interactions outside of the home and take all measures to limit the risk of exposure to COVID-19. These measures include, but are not limited to: distancing any unavoidable personal contact by a minimum of six feet; wearing a face covering when social distancing is not possible; washing hands often with soap and water for at least 20 seconds, or using hand sanitizer with at least 60% alcohol; avoiding unnecessary touching of eyes, nose, and mouth, and washing hands prior to doing so; and cleaning and disinfecting high-touch surfaces, including entryway door handles.
High-risk health conditions include, but are not limited to: chronic lung disease;
moderate to severe asthma; serious heart conditions; immunocompromised status (as a result of cancer treatment, bone marrow or organ transplant, immune deficiencies, poorly controlled HIV or AIDS, or prolonged use of corticosteroids and other immune weakening medications); cancer; severe obesity (body mass index [BMl]>40); diabetes; renal failure; and liver disease.
FLORIDA DBPR EMERGENCY ORDER 2020-09
All vendors licensed to sell alcoholic beverages for consumption on the premises who derive more than 50% of gross revenue from such sales of alcoholic beverages shall suspend such sales of alcoholic beverages for consumption on the premises. Such vendors may continue to sell alcoholic beverages in sealed containers for consumption off the premises in accordance with Executive Order 20-7 I, Sections I and 2.
Vendors who are also licensed as public food service establishments or "restaurants" under Chapter 509, Florida Statutes, may continue to operate for on-premises consumption of food and beverages at tables pursuant to the restrictions in Executive Order 20-139, so long as these vendors derive 50%or less of gross revenue from the sale of alcoholic beverages for on-premises consumption.
To report concerns regarding compliance of a restaurant or bar with the operating requirements as currently applicable during Phase 2 visit http://www.myfloridalicense.com/DBPR/complianceconcern/
Phase 2 Executive Order 20-139
Effective June 5
Responsible Individual Activity
All persons in Florida are encouraged to follow appropriate social distancing and safety protocols issued by the CDC and OSHA. The direction to follow such protocols, and those additional protocols listed below in this section, is guidance and not enforceable under section 252.4 7, Florida Statutes.

Senior citizens and individuals with a significant underlying medical condition are strongly encouraged to avoid crowds and take measures to limit the risk of exposure to COVID-19.
All persons in Florida are encouraged to avoid congregating in groups larger than 50 persons.
All persons who work in long-term care facilities should be tested for COVID19 on a routine basis.
In-store retail businesses, including gyms and fitness centers, should maintain appropriate social distancing and sanitation protocols.
Additional Requirements for Certain Individuals Traveling to Florida
Executive Orders 20-80 and 20-82 are extended with exceptions for persons involved in commercial activity and students traveling for the purpose of academic work, internships, sports training and any other activity or program approved by the educational institution. This order supersedes Executive Order 20-86.
Business Activity
Restaurants and other establishments, and bars and other vendors licensed to sell alcoholic beverages for consumption on the premises, may operate at fifty (50) percent of their indoor capacity, excluding employees, as under Executive Order 20-123, Section 1. Bar areas may be open with seated service. In addition, outdoor seating is permissible with appropriate social distancing. This section does not apply to nightclubs. Non-conflicting provisions in Executive Order 20- 71, Sections 1 and 2 remain in effect.
Entertainment businesses, including but not limited to movie theaters, concert houses, auditoriums, playhouses, bowling alleys, and arcades may operate at fifty (50) percent of their building capacity, with appropriate social distancing between groups and appropriate sanitation.
Pari-mutuel facilities may seek to operate with a written request from the County Mayor or if no mayor the County Administrator to the Secretary of the Department of Business and Professional Regulation (DBPR) and the approval of the DBPR Secretary.
Personal services, including but not limited to tattooing, body piercing, acupuncture, tanning and massage, may operate with appropriate safety guidelines as outlined by the Department of Health.
Executive Order 20-120
Effective May 11, reopening of barbershops, cosmetology salons, and cosmetology specialty salons that adopt appropriate social distancing and precautionary measures.

Includes Barber; Restricted Barber; Cosmetologist; Nail Specialist; Facial Specialist; Full Specialist; Hair Braider; Hair Wrapper; and Body Wrapper.
Broward and Miami Dade excluded from this order.
Barbershops and salons must manage capacity of the premises based on an appointment-only schedule and must allow at least 15 minutes between the conclusion of an appointment and the beginning of the next appointment for proper disinfecting practices. Barbershops and salons should take necessary action to limit gatherings in waiting areas prior to and following appointments to the extent necessary to promote appropriate social distancing. Barbershops and salons are encouraged to adopt means of limiting patrons waiting for appointments, such as calling patrons from a waiting vehicle or outdoor waiting area once an available service station is cleaned, prepared, and ready for service of the next patron.
Barbershops and salons should remove all unnecessary, frequent-touch items, such as magazines, newspapers, service menus, and any other unnecessary paper products and décor from customer service areas. These businesses should take necessary action to limit gatherings of patrons in waiting areas to the extent necessary to promote appropriate social distancing.
The order prohibits group appointments. Where multiple individuals are seeking joint or co-scheduled appointments to obtain services as a party at the same appointment time, barbershops and salons should restrict the number of individual appointments to the number of available service stations that can be responsibly accommodated while maintaining appropriate social distancing.
A mask must be worn by an employee while providing personal services in the barbershop or salon.
Barbershops and salons should be thoroughly cleaned and disinfected prior to reopening, and disinfection practices should be repeated, at minimum, between each day of operation. All surfaces, tools, and linens should be disinfected, even if the items were cleaned before the barbershop or salon was closed. 
Emergency Order 20-006
Effective March 14 prohibiting visitation to certain facilities. Prohibits individuals form visiting nursing homes, assisted living facilities, adult family care homes, long-term care facilities, and adult group homes, development disability centers, transitional living facilities, adult mental health treatment facilities, adult forensic facilities 
Every facility must prohibit the entry of any individual to the facility for 30 days EXCEPT in the following circumstances:

Family members, friends, and visiting residents in end-of-life situations;
Hospice or palliative care workers caring for residents in end-of-life situations;
Any individuals providing necessary health care to a resident;
Facility staff;
Facility residents;
Attorneys of Record for a resident in an Adult Mental Health and Treatment Facility for court related matters if virtual or telephonic means are unavailable; or
Representatives of the federal or state government seeking entry as part of their official duties, including, but not limited to, Long-Term Care Ombudsman program, representatives of the Department of Children and Families, the Department of Health, the Department of Elderly Affairs, the Agency for Health Care Administration, the Agency for Persons Disabilities, a protection and advocacy organization under 42 U.S.C. § 15041, the Office of the Attorney General, any law enforcement officer, and any emergency medical personnel.

Individuals identified in section 1 (those listed above) seeking entry to the facility will not be allowed to enter if:

Any person infected with COVID-19 who has not had two consecutive negative test results separated by 24 hours
Any person showing or presenting signs or symptoms of a respiratory infection, including cough, fever, shortness of breath or sore throat
Any person who has or may have been in close contact with a person(s) infected with COVID-19 who has not tested negative for COVID-19 is prohibited from visiting a facility until 14 days after their interaction with the person(s) who is infected with COVID-19
Any person who traveled through any airport in past 14 days
Any person who traveled on a cruise ship in past 14 days
Any person who has been in a community with confirmed community spread of COVID-19, as identified by the CDC or a state public health agency within 14 days of their presence in the community with community spread
Any person who resides in a community with confirmed community spread of COVID-19, as identified by the Centers for Disease Control and Prevention or a state public health agency
If you are seriously ill, seek care at an area urgent care center or a hospital emergency department. 
COVID-19 testing is available at DOH-Okaloosa. Appointments are required. Please call 850-344-0566 for an appointment. Appointments are available Monday – Friday.
Drive-thru test sites
Tuesday, August 11
8 a.m. - 10:30 a.m.**
Northwest Florida State College
100 E. College Blvd
Niceville, FL 
Thursday, August 13
8 a.m. - 10:30 a.m.**
Northwest Florida State College
1170 Martin Luther King Jr Blvd
Fort Walton Beach, FL
Other Providers Providing COVID-19 Testing PDF 91 KB(This list is not all inclusive) Testing may not be available due to demand and the availability of testing materials. Please call before going to a provider listed.
People with COVID-19 have had a wide range of symptoms reported – ranging from mild symptoms to severe illness.

Symptoms may appear 2-14 days after exposure to the virus. People with these symptoms or combinations of symptoms may have COVID-19:
Cough
Shortness of breath or difficulty breathing
Fever
Chills
Repeated shaking with chills
Muscle pain
Headache
Sore throat
New loss of taste or smell
Fatigue
Congestion or runny nose
Nausea
Diarrhea
Children have similar symptoms to adults and generally have mild illness
The Florida Department of Health Division of Medical Quality Assurance investigates complaints and reports involving health care practitioners regulated by the department and enforces appropriate Florida Statutes. Action which may be taken against health care practitioners is administrative in nature (e.g., reprimand, fine, restriction of practice, remedial education, administrative cost, probation, license suspension or license revocation). 
The Florida Department of Health is warning residents to be wary of potential coronavirus-related scams that target people during the global pandemic.
Telephone scams regarding COVID-19 test results have been reported by Floridians.
Residents have been contacted by callers stating they are with the Florida Department of Health and request social security numbers and medical information before the caller can provide "COVID-19 results".
Below are tips for how to protect yourself from scams, including the COVID-19 phone scam:
The Department will not call to ask for social security numbers or medical information
Never share your personal or financial information via email, text messages, or over the phone.
Be cautious if you're being pressured to share any information or make a payment immediately.
Scammers often spoof phone numbers to trick you into answering or responding.
Remember that government agencies will never call you to ask for personal information or money. Do not click any links in a text message or email that you are unsure of.
If someone is approached at their home by anyone claiming to work for the Florida Department of Health or dressed in protective medical gear, they are encouraged to ask for verification. All DOH staff will have a badge displayed.
The CDC now recommends a symptom- (or time-) based strategy based on accumulating evidence that prolonged isolation is unnecessary while awaiting a post-recovery COVID-19 test.
Key findings (with citations) include:
Concentrations of SARS-CoV-2 RNA measured in upper respiratory specimens decline after onset of symptoms.
The likelihood of recovering replication-competent virus also declines after onset of symptoms. For patients with mild to moderate COVID-19, replication-competent virus has not been recovered after 10 days following symptom onset. Recovery of replication-competent virus between 10 and 20 days after symptom onset has been documented in some persons with severe COVID-19 that, in some cases, was complicated by immunocompromised state. However, in this series of patients, it was estimated that 88% and 95% of their specimens no longer yielded replication-competent virus after 10 and 15 days, respectively, following symptom onset.
A large contact tracing study demonstrated that high-risk household and hospital contacts did not develop infection if their exposure to a case patient started 6 days or more after the case patient's illness onset.
Although replication-competent virus was not isolated 3 weeks after symptom onset, recovered patients can continue to have SARS-CoV-2 RNA (COVID virus name) detected in their upper respiratory specimens for up to 12 weeks. Investigation of 285 "persistently positive" persons, which included 126 persons who had developed recurrent symptoms, found no secondary infections among 790 contacts attributable to contact with these case patients. Efforts to isolate replication-competent virus from 108 of these case patients were unsuccessful.
Specimens from patients who recovered from an initial COVID-19 illness and subsequently developed new symptoms and retested positive by PCR did not have replication-competent virus detected. The risk of reinfection may be lower in the first 3 months after initial infection, based on limited evidence from another betacoronavirus (HCoV-OC43), the genus to which SARS-CoV-2 belongs.
Currently, 6 months after the emergence of SARS-CoV-2, there have been no confirmed cases of SARS-CoV-2 reinfection. However, the number of areas where sustained infection pressure has been maintained, and therefore reinfections would be most likely observed, remains limited.
Serologic or other correlates of immunity have not yet been established. (Antibody testing should not be used to indicate recovery).
Duration of Isolation and Precautions
For most persons with mild to moderate COVID-19 illness, isolation and precautions are discontinued 10 days after symptom onsetand resolution of fever for at least 24 hours, without the use of fever-reducing medications, and with improvement of symptoms.
For persons who never develop symptoms, isolation and other precautions are discontinued 10 days after the date of their first positive PCR test for the virus that causes COVID-19.
A limited number of persons with severe to critical illness may produce replication-competent virus beyond 10 days that may warrant extending duration of isolation and precautions for up to 20 days after symptom onset. This group of individuals will usually be under the care of physician and will follow the physician's guidance for return to work.
In all cases, PCR testing after COVID-19 illness IS NOT RECOMMENDED within 3 months after the date of symptom onset for the initial COVID-19 infection. In addition, quarantine is not recommended in the event of close contact with an infected person. Therefore, persons infected with the virus that causes COVID-19 should not be excluded from work awaiting a negative PCR test for COVID-19. The DOH-Okaloosa will provide a return to work clearance via email (or via mail) for persons in Group 1 and 2 above if required by their employer. Group 3 may receive return to work clearance from either a physician or the health department, if needed.
We encourage ALL employers to modify their requirements for negative PCR test results before return to work. This needlessly prolongs isolation, keeps valued employees from returning to work and results in the unnecessary use of laboratory testing resources.
New antibody tests are being approved by the FDA on an ongoing basis.
DOH-Okaloosa is not aware of any access to these FDA approved antibody tests in Okaloosa County.
The tests detect the presence of antibodies in the blood – if antibodies are present, that indicates that the person has been exposed to the virus and developed antibodies against it.
Antibody tests are not used to diagnose a current COVID-19 infection.
There is still a great deal about COVID-19 immunity that we don't yet fully understand. For example, we don't yet know if the presence of antibodies provides any protection from re-infection nor do we know how long any immunity lasts.
QuestDirect allows individuals to order their own COVID-19 serology test.  
Oneblood is testing all blood donations for COVID-19 antibodies (FDA approved). 
Poison Control Centers are seeing a spike in accidental poisonings during the coronavirus pandemic, specifically from hand sanitizers and household cleaning products.
Florida's Poison Control Centers are available to help you 24/7 at 1-800-222-1222.
Below are some helpful reminders to keep you and your family safe during this time:
Keeping Kids Safe
Florida's Poison Control Centers are seeing a substantial increase in accidental exposures related to hand sanitizers and household cleaning products, including disinfectants and bleach. These are due primarily to these products being used regularly, and then left accessible to children rather than safely placing them out of their reach.
While careful use of these products can prevent infection, make sure you are keeping all chemicals up AND away; never on a counter, cabinet, or on an open shelf. The safest bet is to keep them up high, in a closed cabinet, with a lock for extra security.
Some cleaning products can cause chemical burns, so if accidental ingestion occurs, never induce vomiting. Florida's Poison Control Centers remain available to you 24 hours a day during the pandemic to provide immediate treatment advice at 1-800-222-1222.
Mixing Cleaning Products
Another dangerous behavior is the mixing of cleaning products. We are disinfecting our homes more frequently and as products become scarce, some may resort to mixing products not aware that the combinations could be dangerous.
Here are some helpful tips:
Never mix cleaning products or other chemicals.

Mixing these products and chemicals can create toxic gases. - Exposure to toxic gases like chlorine can lead to significant irritation of the skin and eyes, difficulty breathing, and even death.

Do not use professional grade cleaning products in your home.

Many cleaning products and chemicals can be irritating and have a strong odor, so open windows and doors to ventilate properly while cleaning.

If you feel sick while cleaning, stop immediately, head to fresh air and call Florida's Poison Control Centers at 1-800-222-1222. Call 911 if someone is having trouble breathing or is clearly in distress. When finished cleaning, store cleaning products and other chemicals up and away, out of reach of children.
All non-essential travel is discouraged at this time. Travel increases your chances of getting and spreading COVID-19. Don't travel if you are sick or travel with someone who is sick.
CDC recommends you stay home as much as possible and practice social distancing. Traveling to visit friends and family increases your chances of getting and spreading COVID-19. It is possible for someone to have COVID-19 and spread it to others, even if they have no symptoms. Getting infected may be especially dangerous if you or your loved ones are at higher risk for severe complications from COVID-19. People at higher risk for complications need to take extra precautions.
Essential Travel: These trips involve travel outside of your local area. Some travel may be essential, like:
Travel to provide medical or home care to others
Travel necessary for a job considered an essential service
If you must travel, check with the state or local authorities where you are, along your route, and at your planned destination to learn about local circumstances and any restrictions that may be in place.
Do no travel if you are sick or with someone who is sick.
Road Trips
Be aware that many businesses (such as restaurants and hotels) may be closed.
Anticipate your needs before you go:
Prepare food and water for the road. Pack non-perishables in case restaurants and stores are closed.
Bring any medicines you may need for the duration of your trip.
Pack a sufficient amount of alcohol-based hand sanitizer (at least 60% alcohol) and keep it in a place that is readily available.
Book accommodations in advance if you must stay somewhere overnight.
Plan to make as few stops as possible, but make sure you rest when you feel drowsy or sleepy.
Bring an EPA-registered disinfectant and other personal cleaning supplies.
If you must travel, consider the following risks you might face, depending on what type of travel you are planning:
Air travel: Because of how air circulates and is filtered on airplanes, most viruses and other germs do not spread easily on flights. However, there may be a risk of getting COVID-19 on crowded flights if there are other travelers on board with COVID-19.
Bus or train travel: Sitting or standing within 6 feet of others for a prolonged period of time can put you at risk of getting or spreading COVID-19.
Car travel: The stops you need to make along the way could put you and others in the car with you in close contact with others who could be infected.
RV travel: Traveling by RV means you may have to stop less often for food or bathrooms, but RV travelers typically have to stop at RV parks overnight and other public places to get gas and supplies. These stops may put you and those with you in the RV in close contact with others who could be infected.
CDC has issued a Level 3 travel health advisory for a global pandemic (all countries)
Persons returning from international travel, a cruise, or an impacted U.S. state:
Mandatory 14-day self-isolation.
If a person becomes sick (feverish/chilled or develops symptoms of lower respiratory illness (cough, shortness of breath) during this period, they should:

Call ahead to their healthcare provider, notify them of their recent travel and discuss how to enter the healthcare facility in a safe manner to obtain a medical evaluation.
Returning travelers should practice good infectious diseases hygiene and implement social distancing practices.
Avoid shaking hands as a social greeting.
Maintain a 6-foot distance between you and other people
Minimize interactions with co-workers or the public.
Avoid interaction with persons 65 or older, with chronic medical conditions, or in an immunocompromised state.
Avoid going out in public at peak hours of the day.
Take advantage of delivery or pick-up services from retailers.
Avoid travel by public conveyances (planes, trains, buses).
Work with employer to implement remote work options.
Avoid crowded places such as large indoor events such as church, community meetings, concerts, etc.
If a person becomes sick (feverish/chilled or develops symptoms of lower respiratory illness (cough, shortness of breath)) during this period, they should:

Not go to work/school and self-isolate at home until evaluated by a health care provider.
Notify their employer/school by phone or email.
Call ahead to their healthcare provider, notify them of their recent travel to a Level 2 country or a cruise, and discuss how to enter the healthcare facility in a safe manner to obtain medical evaluation.
Nonessential travel is still discouraged by the CDC.
Beaches are open in Okaloosa County without time restrictions. Groups must be less than 10 and 6ft of space between groups.
Hotels, motels, inns, and short-term rentals are available.
Restaurants, bars and pubs (excludes nightclubs) are open to 50% capacity indoors as well as outside seating available.
The virus is thought to spread mainly from person-to-person.
Between people who are in close contact with one another (within about 6 feet).
Through respiratory droplets produced when an infected person coughs or sneezes. These droplets can land in the mouths or noses of people who are nearby or possibly be inhaled into the lungs.
Some recent studies have suggested that COVID-19 may be spread by people who are not showing symptoms. The virus that causes COVID-19 is spreading very easily and sustainably between people
Information from the ongoing COVID-19 pandemic suggest that this virus is spreading more efficiently than influenza, but not as efficiently as measles, which is highly contagious.
There are various reports on how long the virus that causes COVID-19 can live on various surfaces but no definitive evidence that this is a major means of spreading the virus. It could be possible that a person can get COVID-19 by touching a surface or object that has the virus on it and then touching their own mouth, nose, or possibly their eyes.
There is currently no evidence of COVID-19 spreading through mail. To learn more about the postal service is doing to address the situation people can call 1-800-275-8777.
Cover your mouth and nose with a tissue when coughing or sneezing
Wash your hands often with soap and water for at least 20 seconds or clean your hands with an alcohol-based hand sanitizer that contains at least 60% alcohol.
Avoid close contact with people who are sick
Avoid touching your eyes, nose, and mouth
Clean and disinfect frequently touched objects and surfaces using a regular household cleaning spray or wipe
Avoid crowded places
Keep 6 ft of distance between yourself and other people
Limit gatherings to less than 10 people
In coordination with the U.S. Food and Drug Administration (FDA), the Red Cross is seeking people who are fully recovered from COVID-19 to sign up to donate plasma to help current COVID-19 patients.
People who have fully recovered from COVID-19 have antibodies in their plasma that can attack the virus. This convalescent plasma is being evaluated as treatment for patients with serious or immediately life-threatening COVID-19 infections, or those judged by a healthcare provider to be at high risk of progression to severe or life-threatening disease.
A contact investigation to any case of a reportable disease is confidential under Florida Statue.  Your personal and medical information will be kept private.
When public health professionals are notified of a case of COVID-19, we undertake a process called contact tracing. Contact tracing is the process of identification of persons who may have come into close contact with an infected person.
A close contact for someone with COVID-19 is defined as:
Anyone who was within 6 feet of an infected person for at least 15 minutes starting from 48 hours before the person began feeling sick until the time the patient was isolated.
CDC does not recommend testing, symptom monitoring or special management for people exposed to asymptomatic people with potential exposures to SARS-CoV-2 (such as in a household), i.e., "contacts of contacts;" these people are not considered exposed to SARS-CoV-2, the virus that causes COVID-19.
Contact tracing for COVID-19 typically involves
Interviewing people with COVID-19 to identify everyone with whom they had close contact during the time they may have been infectious,
Notifying contacts of their potential exposure,
Referring contacts for testing,
Monitoring contacts for signs and symptoms of COVID-19, and
Connecting contacts with services they might need during the self-quarantine period.
To prevent the further spread of disease, COVID-19 contacts are encouraged to stay home and maintain social distance (at least 6 feet) from others until 14 days after their last exposure to a person with COVID-19. Contacts should monitor themselves by checking their temperature twice daily and watching for symptoms of COVID-19.
You are still considered a close contact even if you were wearing a cloth face covering while you were around someone with COVID-19. Cloth face coverings are meant to prevent someone from transmitting the disease to others, and not to protect someone from becoming infected.
CDC recommends wearing cloth face coverings in public settings where other social distancing measures are difficult to maintain (e.g., grocery stores and pharmacies), especially in areas of significant community-based transmission.

CDC also advises the use of simple cloth face coverings to slow the spread of the virus and help people who may have the virus and do not know it from transmitting it to others. Cloth face coverings fashioned from household items or made at home from common materials at low cost can be used as an additional, voluntary public health measure.

Cloth face coverings should not be placed on young children under age 2, anyone who has trouble breathing, or is unconscious, incapacitated or otherwise unable to remove the mask without assistance.

The cloth face coverings recommended are not surgical masks or N-95 respirators. Those are critical supplies that must continue to be reserved for healthcare workers and other medical first responders, as recommended by current CDC guidance.
The time between exposure to the COVID-19 virus and onset of symptoms is typically 2 to 14 days.
The FDA approved an Emergency Use Authorization to Gilead Science for the use of remdesivir for the treatment of hospitalized 2019 coronavirus disease (COVID-19) patients on May 1, 2020.
The American Red Cross of North Florida is launching a Virtual Family Assistance Center to support families struggling with loss and grief due to the ongoing coronavirus pandemic. People can visit the Redcross website to access a support hub with special virtual programs, information, referrals and services to support families in need.  People without internet access can call 833-492-0094 for help.
Many families have experienced a disrupted bereavement and grief process due to restrictions related to COVID-19. To help, the Red Cross has set up a virtual team of specially trained mental health, spiritual care and health services volunteers who are:
Connecting with families over the phone to offer condolences, support and access to resources that may be available
Providing support for virtual memorial services for families, including connecting with local faith-based community partners
Hosting online classes to foster resilience and facilitate coping skills
Sharing information and referrals to state and local agencies as well as other community organizations including legal resources for estate, custody, immigration or other issue
All Family Assistance Center support will be provided virtually and is completely confidential and free.
The Department of Justice has been made aware of postings or flyers on the internet regarding the Americans with Disabilities Act and the use of face masks due to the COVID-19 pandemic.  These postings were not issued by the Department of Justice and are not endorsed by the Department.