Skip Global navigation and goto content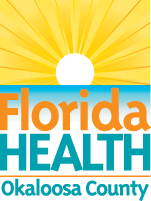 It's a New Day in Public Health.
The Florida Department of Health works to protect, promote, and improve the health of all people in Florida through integrated state, county, and community efforts.
Skip MegaMenu and goto content
Left navigation requires javascript to be enabled in your browser.
Aquatic Toxins
Contact us
 

Mailing Address

221 Hospital Dr. NE, Fort Walton Beach, FL 32548 

810 E. James Lee Blvd., Crestview, FL 32539 

 
Harmful Algal Bloom 
Algae are plant-like organisms that help sustain aquatic life by contributing to the food chain and providing oxygen to keep Florida's waterbodies healthy. Certain conditions, such as warm weather and increased nutrients, may cause the rapid growth of algae. This rapid growth can cause an algal bloom (or algae bloom). 
An algal bloom may look like foamy mat or a scum layer on the surface of the water. Some blooms release toxins that are harmful to people and the environment. A harmful algal bloom (HAB) may occur in a saltwater, freshwater or brackish waterbody. The most common HABs in Florida are due to blue-green algae (cyanobacteria) in fresh waters and Red Tide (Karenia brevis) in coastal waters.
Blue-Green Algae  
Blue-green algae are a type of bacteria that is common in Florida's freshwater environments. A bloom occurs when rapid growth of algae leads to an accumulation of individual cells that discolor water and often produce floating mats that emit unpleasant odors.
Some environmental factors that contribute to blue-green algae blooms are sunny days, warm water temperatures, still water conditions and excess nutrients. Blooms can appear year-round but are more frequent in summer and fall. Many types of blue-green algae can produce toxins.
If blue-green algae toxins are suspected/present:
Do not drink, swim, wade, use personal watercraft, water ski or boat in waters where there is a visible bloom.
Wash your skin and clothing with soap and water if you have contact with algae or discolored or smelly water.
Keep pets away from the area. Waters where there are algae blooms are not safe for animals. Pets and livestock should have a different source of water when algae blooms are present.
Do not cook or clean dishes with water contaminated by algae blooms. Boiling the water will not eliminate the toxins.
Eating fillets from healthy fish caught in freshwater lakes experiencing blooms is safe. Rinse fish fillets with tap or bottled water, throw out the guts and cook fish well.
Do not eat shellfish in waters with algae blooms.
Is it harmful?
Blue-green algae blooms can impact human health and ecosystems, including fish and other aquatic animals.
Find current information about Florida's water quality status and public health notifications for harmful algal blooms and beach conditions by visiting ProtectingFloridaTogether.gov. Protecting Florida Together is the state's joint effort to provide statewide water quality information to prioritize environmental transparency and commitment to action.
What do I do if I see an algal bloom?
The Florida Department of Environmental Protection collects and analyzes algal bloom samples. To report a bloom to DEP, call the toll-free hotline at 855-305-3903 or report online.
To report fish kills, contact the Florida Fish and Wildlife Research Institute at 1-800-636-0511.
Report symptoms from exposure to a harmful algal bloom or any aquatic toxin to the Florida Poison Information Center, call 1-800-222-1222 to speak to a poison specialist immediately.
Contact your veterinarian if you believe your pet has become ill after consuming or having contact with blue-green algae contaminated water. Information for pet owners
Red Tide 
There are many HAB (Harmful Algal Bloom) species in the Gulf of Mexico—Karenia brevis is Florida's most common red tide organism. Dark red or brown, sometimes with a yellowish tint, this red tide produces brevetoxins that can kill marine animals, and make land animals and people sick. If you've been around red tide, you may have had the "red tide tickle": the itchy throat and cough caused by breathing in brevetoxins that have been released into the air and water when wind and waves break open the cells of the algae.
Some people may have mild and short-lived respiratory symptoms such as eye, nose and throat irritation similar to cold symptoms. Some individuals with breathing problems such as asthma might experience more severe symptoms. Usually symptoms go away when a person leaves the area or goes indoors. Health officials recommend that people experiencing these symptoms stay away from beach areas or go into an air-conditioned space.
Don't swim in or around red tide because the toxin can cause skin irritation, rashes and burning and sore eyes.
Red tides can kill fish and other marine life—avoid contact and don't swim or walk in these areas. Keep your pets away from these areas.
Don't harvest or eat distressed or dead fish (or any animals) from or near a red tide. Fish caught live and healthy can be eaten if filleted and rinsed thoroughly with fresh water.
Check local harvesting status at Florida Department of Agriculture and Consumer Services. Crabs, lobsters, shrimp, clams, oysters and scallops are filter feeders that can concentrate toxins—these and other shellfish, if harvested from red tide areas, can be contaminated with brevetoxins. The muscle of the scallop is free of toxin but the rest of the scallop is not (recipes using scallop muscle are safe to eat). Your safest choice is to not harvest or eat shellfish from affected areas.
You could suffer from Neurotoxic Shellfish Poisoning (NSP) if you eat contaminated shellfish. NSP symptoms include: nausea and vomiting; tingling of the mouth, lips and tongue; and slurred speech and dizziness. Neurological symptoms can progress to partial paralysis and respiratory problems.
To report fish kills, contact the Florida Fish and Wildlife Research Institute at 1-800-636-0511
Please visit the Florida Fish and Wildlife Research website for information on the locations where red tide has been found: myfwc.com/research/redtide/statewide/.