Skip Global navigation and goto content
Frequently Asked Questions
Contact us
 

Fax

850-689-5928
 

Mailing Address

810 James Lee Blvd. 

Crestview, FL 32539 

 
1. Why are baby teeth so important?
Baby or primary teeth may be temporary, but they deserve good care. A child needs strong, healthy primary teeth to chew, speak and have a good-looking smile! These baby teeth also help keep a space in the jaw for adult teeth. If a baby tooth is lost too early, the teeth beside it may move into the empty space. Then, when it's time for adult teeth to come in, there may not be room. This can make teeth crooked or crowded.

Baby teeth are at risk for decay as soon as they first appear -- typically around 6 months of age.
Start cleaning your baby's mouth early. Before teeth appear, wipe the baby's gums with a wet washcloth or a clean gauze pad after each feeding. As soon as the first tooth appears, start brushing your baby's teeth twice a day (morning and night). Use a soft-bristled, child-sized toothbrush and a fluoride toothpaste. The American Dental Association (ADA) recommends using a smear of toothpaste (the size of a grain of rice) for children under 3.
Top of Section
2. What is baby bottle rot?
Baby bottle rot is caused by regular contact with sugary drinks. This can happen when your baby goes to bed with a bottle. It can also happen when bottles are used as a pacifier.
The good news is baby bottle tooth decay is preventable! Follow these tips:
Don't put your baby's spoon or pacifier in your mouth.
Wipe your baby's gums with a clean, damp cloth after each feeding.
When your child's teeth come in, brush them gently with a child-size toothbrush and a smear (or grain of rice sized amount) of fluoride toothpaste until the age of 3. 
Brush the teeth with a pea-sized amount of fluoride toothpaste from the ages of 3 to 6.
Supervise brushing until your child can spit and not swallow toothpaste—usually not before he or she is 6 or 7.
Place only formula, milk or breast milk in bottles. Never put sugar water, juice or soft drinks in a bottle.
Baby's should finish their bedtime and nap time bottles before they go to bed.
Use a clean pacifier. Don't dip it in sugar or honey.
Encourage your child to drink from a cup by his/her first birthday.
Encourage healthy eating habits.
See a dentist after the first tooth appears.
Top of Section
3. What are sealants? Why does my child need them?
Dental sealants are thin, plastic coatings that protect the chewing surfaces. They are placed on children's back teeth to prevent decay. Sealant material is painted on as a liquid, then hardens to a solid shield over the tooth. The process is simple and painless. Children should get sealants as soon as their permanent molars come in.
Before                  After
Sealants are safe. There is more BPA in the air we breathe than in dental sealants.
Sealants work. Sealants lower the risk of tooth decay by 80%.
Top of Section
4. What is fluoride?
A mineral that occurs naturally. It is released from rocks into water, soil and air.
Top of Section
5. Why do we need fluoride?
Fluoride keeps teeth strong and reduces cavities. Preventing cavities saves money for families. The American Dental Association (ADA), American Academy of Pediatrics, US Public Health Service, Centers for Disease Control and Prevention (CDC) and the World Health Organization recommend drinking fluoridated water.
Top of Section
6. I have public water at home. How much fluoride is in it?
CDC Community Water Fluoridation FAQs
| | |
| --- | --- |
| Name of Water System | Optimal Fluoride? |
| Auburn Water System | No |
| Baker Water System, Inc. | No |
| Bluewater Bay-Raintree Development | No |
| City of Crestivew Water Department | No |
| Destin Water Users, Inc. | Yes |
| City of Fort Walton Beach | Yes |
| Holt Water Works, Inc. | No |
| City of Laurel Hill | No |
| Town of Mary Esther | Yes |
| Mid Okaloosa County Water System | No |
| Milligan Water System, Inc. | No |
| City of Niceville | Yes |
| Okaloosa County Water & Sewer System | Yes |
| Okaloosa Correctional Institution | No |
| City of Valparaiso | No |
Top of Section
7. I have a private well at home. Am I getting fluoride?
You will need have a water sample analyzed by a lab. TheEnvironmental Protection Agency recommends testing every three years.
Top of Section
8. I'm new to the area. Where is the dental clinic located?
We are located at 810 E. James Lee Blvd. in Crestview.
The clinic is .2 miles west of Twin Hills Park, across from Northwest Florida State College.
The clinic is .2 miles west of the Okaloosa County Jail.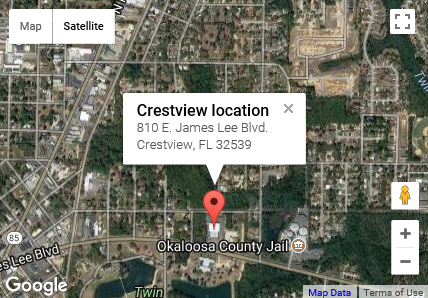 Top of Section